Publish on 29/04/2022
The startups "Pewman Innovation", "Suncast SPA" and "Tetris4D" took first, second and third place respectively, with innovative ideas to fight climate change and scale their projects in France.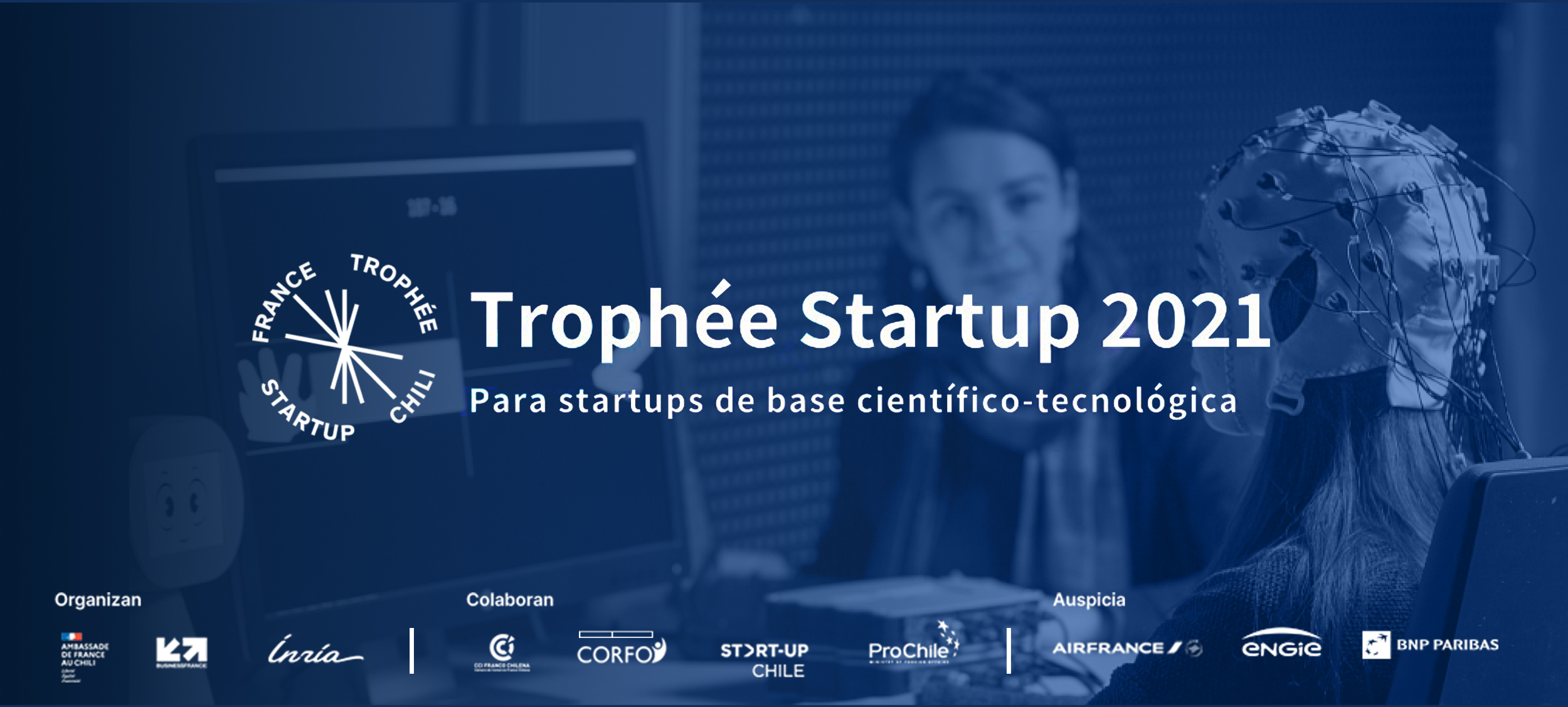 Today, at the French Institute of Chile and in a hybrid format (both face-to-face and online), the winner of the Trophée Startup 2021 in Chile was chosen. In this version, the focus was on selecting startups that had a project based on research and development with high level of sophistication technologies.
The objective of Trophée is to establish France and Chile as an attractive and dynamic innovation ecosystems, and to strengthen economic and scientific cooperation between the two countries. Thus, it seeks to detect Chilean startups with high growth and internationalization potential and give them the opportunity to discover the French market and its ecosystem of innovation and entrepreneurship.
The French ambassador in Chile, Pascal Teixeira, said at the award ceremony that "our role is bringing the ecosystems of France and Chile closer, as well as promoting the young promises we hear (...) Five of the six finalists are involved with the climate and the three winners work very hard in the fight against climate change, so we hope that they will be successful in their projection with France".
The winners will benefit from a comprehensive training and acceleration package in Chile and France to create the conditions for a potential internationalization in the European country. In addition, they will be part of a training and pre-internalization program in Chile, with specific training in digital technologies such as Artificial Intelligence, Machine Learning and the Internet of Things, carried out by Inria, through the Inria Academy program; and presentation of the French ecosystem of innovation and preparation for internationalization, given by Business France.
The winner projects
First place went to "Pewman Innovation". This company provides solutions for meteorological frosts that cause millionaire losses to many actors in the agricultural industry worldwide, from producers to state entities that subsidize losses. They developed a 100% organic liquid biofortifier based on Antarctic bacteria and nanotechnology that protects agricultural crops from cold damage at low cost.
Second place went to "Suncast SPA", a Chilean company that applies AI in renewable energies. Currently, it offers the "Generation Prediction" service, which allows determining the generation of energy in photovoltaic and wind turbine plants with high-precision models to comply with the regulations of Chile and Mexico. Likewise, it offers "Predictive Maintenance", which makes it possible to predict when and how many times the panels must be cleaned to optimize costs and automate operation and maintenance processes.
Finally, the third place wen to "Tetris4D", the first system in the world that maximizes the use of capacity of delivery vehicles and, simultaneously, plans the optimal route through AI, cubing and locating the load inside, considering all the variables (weight, volume, fragility and location) and order of delivery. This allows to optimize the load, reducing manual planning processes, with the consequent reduction in vehicles and kilometers traveled.
Finally, the director of Inria Chile and jury of the contest, Nayat Sánchez-Pi, referred to the role of the Institute in the Trophée Startup 2021. "For us, as Inria and as a research center in digital sciences and technologies, we are very aligned in these types of contests. Our mission is to provide support for this to exist, so that it contributes not only to an economic impact, but also to a social and environmental one", she concluded.