Changed on 01/06/2023
Today the application for the Throphée Start Up version 2022 competition is open. This contest for scientific- technological based Chilean StartUps has the objective to assist enterprises looking for internationalization.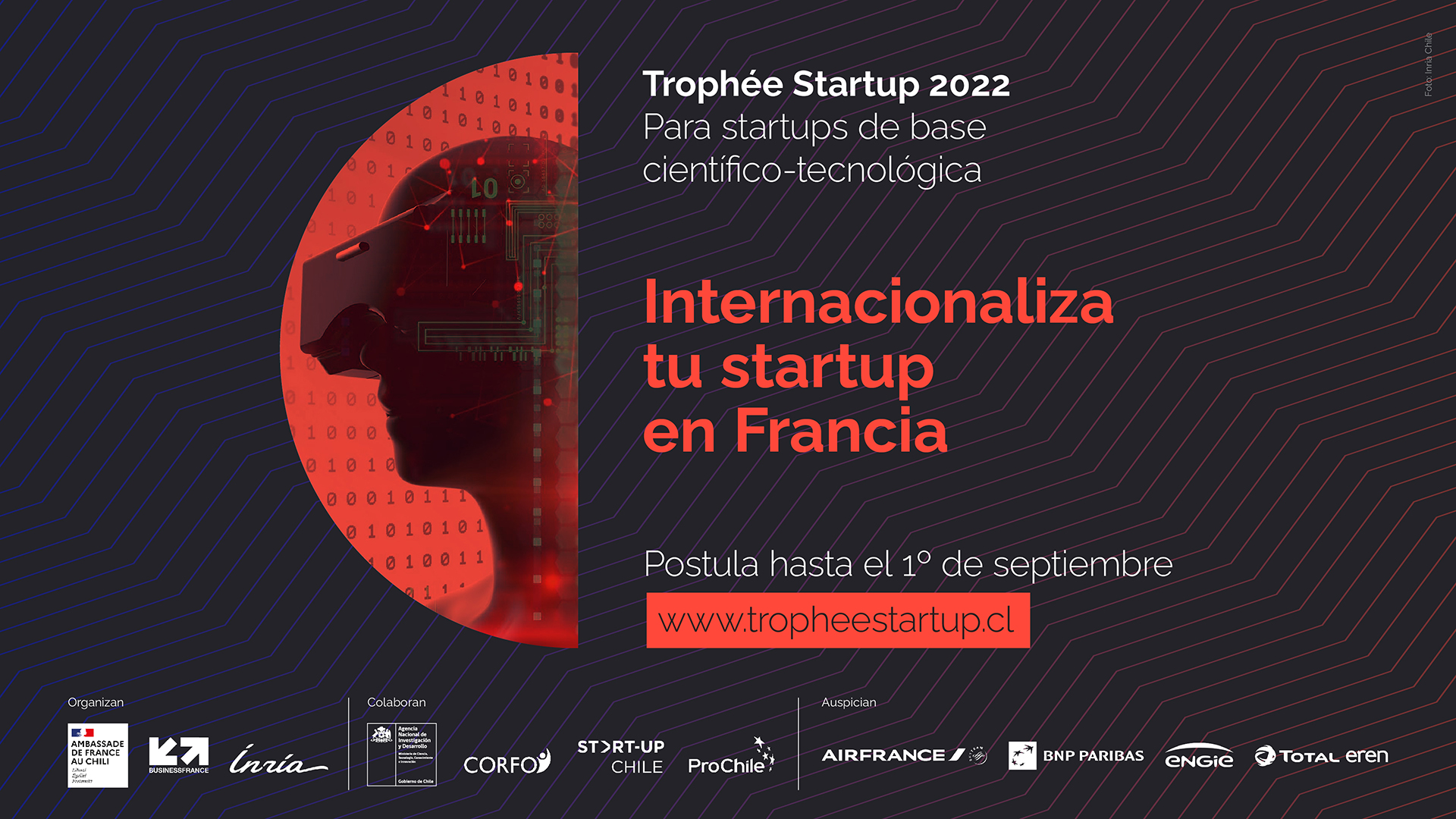 Today, the call for Throphée StartUp 2022 is open. The contest has as a goal, to detect Chilean initiatives with a business potential and have growth in France. Also, the contest generates and accelerates the implementation process of scientific-technological based enterprises in the French market, and it encourages networking and alliances between Chilean and French actors, in researching, development, innovation and venture ecosystems.
The winners of Thropée StartUp will receive a comprehensive package of formative and acceleration in Chile and France to create the adequate conditions for a potential implementation in Europe.
In its third version, the contest is held by the French Embassy in Chile, the French Institute in Chile, Business France and Inria Chile. It also counts with the support of the National Agency of Investigation and Development (ANID), CORFO, StartUp Chile, ProChile, Air France, BNP Paribas, Engie and Total Eren sponsorships.
Start Ups must present a scientific-technological based proposal with high sophistication and impact. It has to count with sales or have been beneficiated with public fundings and counting with a legal representative, at least ten years since the call application.
The call is open from July 14th until September 1st, 23:59:00. Winners are going to be announced September 29th, during an event in which finalists will present a pitch to Trophée Startup 2022 Jury.
Don't miss it and apply in www.tropheestartup.cl.
The ones interested in being part of the Trophée Start Up 2022, will be able to get information and ask all the details needed of the contest in the informative Webinar on July 20th at 14:00 hrs.
You can sign in on this link.
Successful experiences of Chilean StartUps beneficiated by the Trophée Startup.
Four Enterprises have just come back from France, where they were most of July in their internationalization process. Pewman Innovation, Diagonfast, Suncast, Tetris 4D, were expanding their projects and generating links with key stakeholders in the second biggest market in the European Union.
Between June 1st and 15th, StartUps representatives benefited from a customized program by the agency of innovation and development of the French capital, Paris&Co. On June 15th and 18th, they participated in the major event of innovation in Europe and recognized around the globe as a catalizer of enterprise transformation and innovation: VIVATECH 2022. Furthermore, they got support from the ProChile office in Paris, who supported them in creating links among potential partnerships and clients.
Back in Chile, on July 6th, the contestants came to Inria's Headquarters to share their experiences with the Trophée StarUp organizing committee and how beneficial it was for them to have participated in this contest for internationalization. The general conclusion is that, despite the fact in Chile there is an effort to potentiate StartUps, it is still far away from France, where a fruitful ecosystem works collaboratively and successfully. 
Referring to this, Constanza Levicán of SunCast, said that "the experience was amazing at the moment of seeing opportunities given by the French Government for start ups in the energy , sustainability, and climate change fields to be settled in France.[...] We meet with important French organizations from the energetic field, we could held a number of meetings with different teams of our current clients''.
Also, the participants were amazed by the attention and disposition to listen from their hosts to the projects and innovation they were carrying out: "All people we met were interested on our proposals and , for them, innovation is more important than the costs or prices of the product" explained Enzo Galliani of Pewman Innovation.
On the other hand, María Fernanda Coronas of Diagonfast said that being there "we could talk with huge and small vineyards about their necessities and how we can support them on the area of quality control procedure of their wines, obtaining great feedback from them. We could create stronger links than in a virtual meeting".
Finally, Tetris4D achieved the conditions to open an office and start business this year in France. Juan Valenzuela, one of the partners, is having plans to live in France on a short-term basis: "When I was there, I called my partners and we made the decision to open in France. They helped us to open the bank account, we are working on the bylaws, we signed a contract to rent an office near Opera [Paris city center] so we are on track. Definitely, we had to set ourselves in France and if we wouldn't have won this contest, we would not be able to do it with all the speed we are facing" explained.