Changed on 31/08/2023
The Center will participate in the development of improvements to the Integrated Alarm System and to ensure the correct functioning of the radio telescope antennas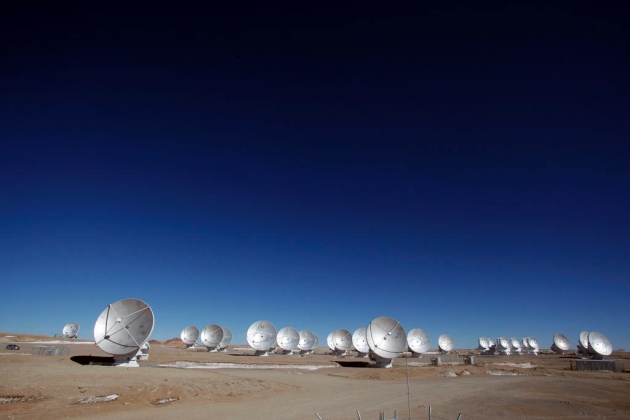 Last August Inria Chile and the ALMA observatory (Atacama Large Millimeter/submillimeter Array) started a new joint work to improve the overall performance of the antennas and ensure the quality of their observations. This will be achieved through a solution proposed by Alessandro Caproni, software development specialist at ESO (European Southern Observatory). This is a basic Integrated Alarm System (IAS) to facilitate and shorten the response times of ALMA operators in the event of an emergency in their systems.
These alarms may indicate, for example, that repairs are needed on the antennas or on the power generation plants that keep them cool, or the arrival of a weather event that may alter the observation. As each of these items has an individual monitoring and alarm system, Inria Chile's objective is to collaborate with its technological capabilities to integrate all these alarms into a single platform. The end result is to ensure the correct operation of the array (a group of 66 antennas that make up the telescope), in addition to developing a new graphical interface according to the needs of its operators.
Verbatim

We detected an opportunity for improvement in our control rooms and created the Integrated Alarm System. Since the platform is quite basic, we called for specialized centers to improve it, and Inria Chile was chosen for that.
Auteur
Poste
From ESO
The expert spent two weeks in Chile to meet the team, to better understand the tasks to be performed within the project and to transmit the latest advances in its development on ALMA's side.
Verbatim

We have high expectations with this partnership because we already developed a project with the Center, such as the Dashboard (a board to visualize the data generated by the telescope's antennas), so we know well their work of excellence.
Auteur
Poste
From ESO
Alessandro Caproni's stay also included a visit to the ALMA observatory together with Sebastián Fehlandt, Research and Development Engineer at Inria Chile, and María Grazia Prato, User Experience Designer at the Center.
Verbatim

The objective of the visit was to meet the IAS users, to have more context of the work being done in order to validate the proposed solution
Auteur
Poste
Research and Development Engineer at Inria Chile
The team also interacted with part of the observatory's team of operators and engineers to better understand their workflow and the tasks they have to perform during their workday when they are working.
Verbatim

By observing their day-to-day work, we understood that alarms are very necessary for the operation of the observatory.
Auteur
Poste
User Experience Designer at Inria Chile
Alessandro Caproni and Inria Chile's visit to ALMA also aimed to initiate teamwork in preparation for the expert's visit in 2018. Caproni will stay in Chile for a year to speed up the development of the platform.