Changed on 31/08/2023
Article published originally in El Dínamo, on March 06, 2018

In order to continue improving the quality of the Transantiago bus service, the Metropolitan Public Transport Directory (DTPM) presented a new tool to optimize the control of the system's bus fleet.

It is a new information panel, which was developed by the French foundation Inria Chile, and which allows to display the complete map of the city, but also the location of all the vehicles of the system.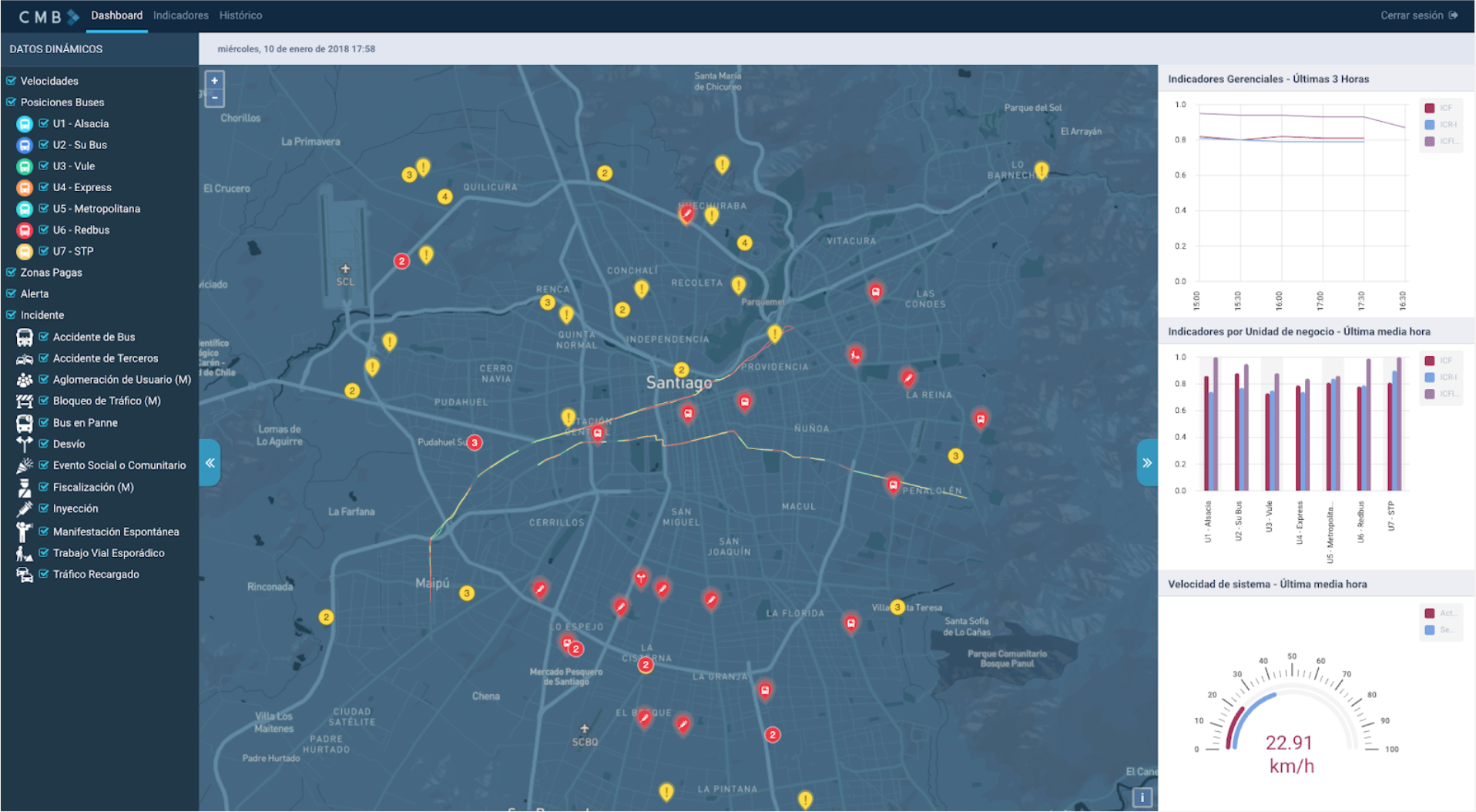 Inria Chile - Photo: Monitoring Panel for Transantiago
This makes it possible to detect the specific location of operational buses, as well as terminal areas and regulation points, which allows for highly efficient decision-making in contingency situations, for example, in cases where the arrival of a service needs to be reinforced.
Additionally, the new panel incorporates a set of alerts to determine the location of stopped buses, accidents, and even detours, which also contributes to improve coordination between the DTPM Bus Monitoring Center team and the operating companies themselves.
Verbatim

This tool means "another step forward in our search to incorporate advanced technology at the service of users. In this sense, having this panel not only ensures quick decisions in case of emergencies, but also helps to optimize the operation of the system"
Auteur
Poste
Director of the DTPM
Verbatim

Emphasized that "what interests us is the impact of the projects we develop, and for us, the work done with the Bus Monitoring Center is a successful example of this. We tackled a technological challenge to deliver something that would be very useful for those who monitor the Transantiago bus fleet, and at the same time, this manages to generate an impact on the population of the capital".
Auteur
Poste
CEO of Inria Chile
Precisely, another key data provided by the panel is information related to the daily compliance with the frequency and regularity indicators of each of the companies of the system, which allows the DTPM to better control the dispatches of buses, which contributes to shorter waiting times for the users of the system.
In addition, the panel also has telemetry data of the system, such as the average speed of the buses, which helps to detect situations related to congestion, which could be affecting certain services.
It should be noted that this type of information panels put Santiago's public transport at the forefront in Latin America, due to the quality of the instrument, which has already been tested in the Paris Metro network.