Changed on 14/07/2021
● In its 2021 version, the TROPHÉE STARTUP will support Chilean science-technology based startups in various areas.

● 2 startups will benefit from the Trophée Startup internationalization program.

● The call for applications will open on July 14 and close on September 1, 2021.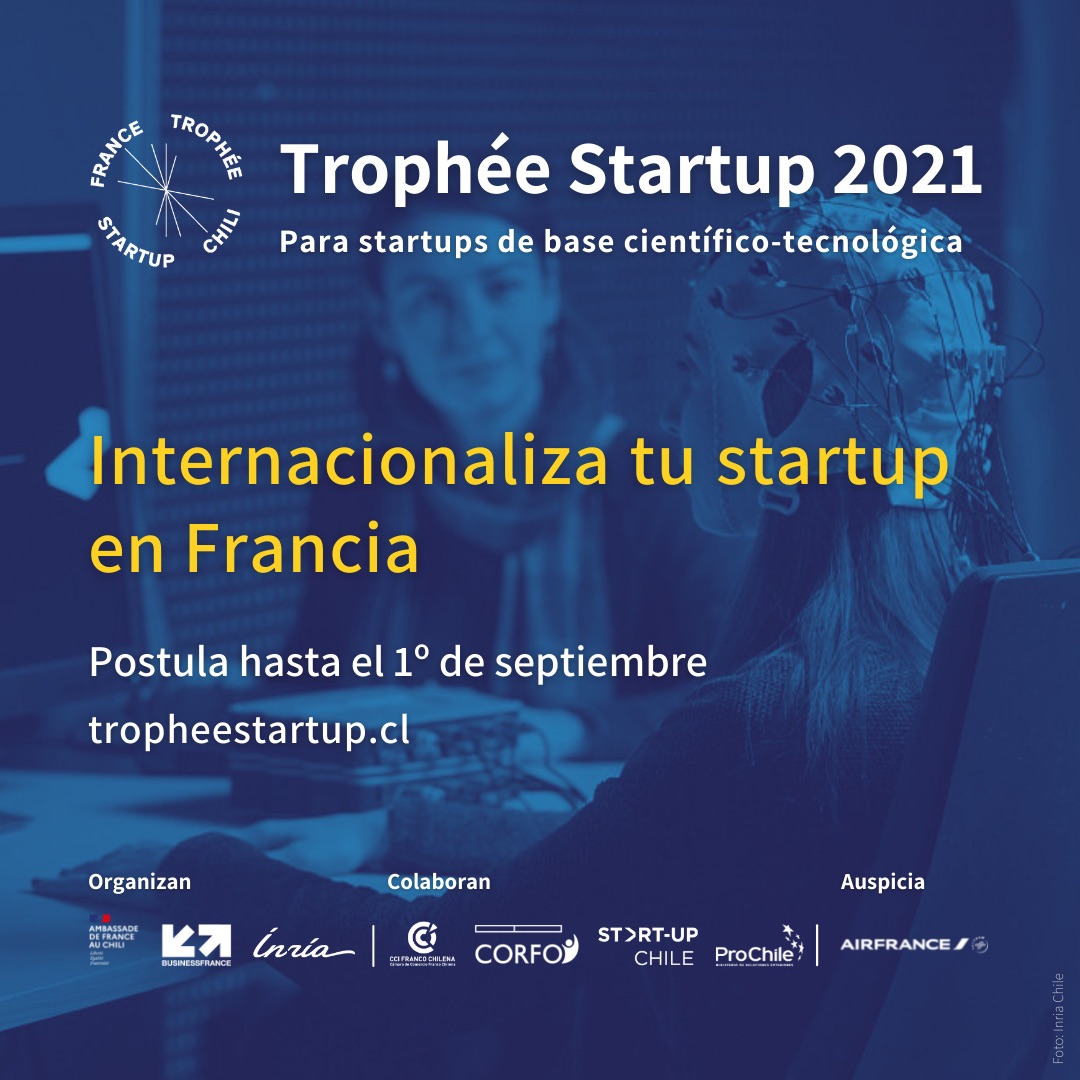 In order to promote the internationalization of Chilean scientific-technological startups in France, the French Embassy in Chile, Business France, the French Institute of Chile and Inria Chile, with the collaboration of the French-Chilean Chamber of Commerce, Corfo, Start-Up Chile and ProChile, are launching applications for the 2021 version of the annual TROPHÉE STARTUP competition.
In this second version, whose application begins on July 14 and closes on September 1, 2021, the contest will be open to all areas of activity.
WHAT IS THE TROPHÉE STARTUP?
The Trophée Startup is an annual competition that seeks to support Chilean science and technology-based startups in their internationalization process.
In the framework of this contest, 5 Chilean startups will be selected to participate in a final event during which they will present a pitch in front of a high-level jury, composed of representatives of the Chilean and French innovation and entrepreneurship ecosystems, as well as representatives of the contest organizers.
The two winning startups will be awarded a prize consisting of training sessions in digital technologies provided by Inria, as part of its Inria Academy program, and French market presentation and internationalization preparation sessions provided by Business France.
Each of the winning startups will undertake an acceleration program in France for 2 to 3 weeks consisting of an acceleration program in an ad-hoc entity chosen by the organizers. The costs of travel, accommodation, food and the internationalization program of the startups will be covered by the organization of this contest.
In addition, the startup with the best evaluation will be automatically selected to be the official representative of Chile in the framework of the Latam French Tech Tour. 
HOW AND UNTIL WHEN TO APPLY?
         Application dates: July 14 - September 1, 2021.
WHO ARE WE ?
ORGANIZERS
The French Embassy in Chile and the French Institute have among their missions to promote bilateral cooperation and the attractiveness of France abroad.
Business France is the national agency for the internationalization of the French economy. It is in charge of promoting the attraction and foreign investment in France, and of promoting the internationalization of French startups and SMEs in Chile.
The French Institute of research in science and digital technologies Inria, with presence in Chile since 2012, through its Inria Startup Studio seeks to support Chilean startups of scientific-technological base, especially in its internationalization process in France.
This contest is supported by the French-Chilean Chamber of Commerce, Corfo, Start-Up Chile, ProChile and sponsored by Air France.